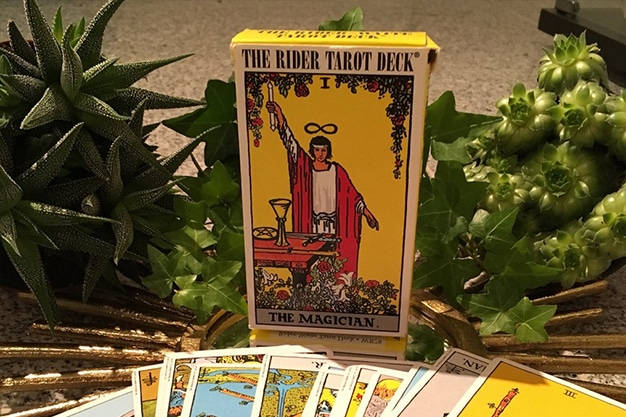 The Rider-Waite Tarot deck (also called Rider-Waite-Smith, Waite-Smith, Waite-Colman Smith, or the Rider Deck) is the most used and best-known Tarot deck in the world. Although the deck has only been around since 1910, it has become the gold standard for Tarot cards. It is the deck that most people who read Tarot use and the deck that inspires newer card designs.
Illustrator Pamela Colman Smith was instructed by the mystic A.E. Waite to draw the now famous images on the cards. The card deck was published by the Rider company, hence the name of the deck. The Rider-Waite deck was one of the first decks to fully illustrate all 78 Tarot cards. In addition to coming up with the basis for the cards' designs, Waite wrote a guide called Pictorial Key to the Tarot, which provides some insight into the meanings of the tarot cards symbols.
The following is a brief overview of all 78 cards:
The Major Arcana or Trump Cards
The Fool no. 0

Upright: free spirit, spontaneity, innocence, beginnings
Reversed: foolish, naïve, reckless, risk taking

The Magician no. 1

Upright: skill, concentration, resourcefulness, power
Reversed: latent talents, poor planning, manipulation

The High Priestess no. 2

Upright: mystery, higher powers, subconscious mind, intuition
Reversed: need to listen to inner voice, hidden agendas

The Empress no. 3

Upright: beauty, nature, abundance, fertility
Reversed: dependence on others, creative block

The Emperor no. 4

Upright: structure, solid foundation, father-figure, authority
Reversed: excessive control, rigidity, domination, inflexibility

The Hierophant no. 5

Upright: beliefs, identification, religion, conformity, group, tradition
Reversed: restriction, challenging the status quo

The Lovers no. 6

Upright: union, love, relationships, values alignment, choices
Reversed: disharmony, imbalance, misalignment of values

The Chariot no. 7

Upright: control, will power, victory, assertion, determination
Reversed: lack of control and direction, aggression

Strength no. 8

Upright: strength, courage, patience, control, compassion
Reversed: weakness, self-doubt, lack of self-discipline

The Hermit no. 9

Upright: soul searching, introspection, being alone, inner guidance
Reversed: isolation, loneliness, withdrawal

Wheel of Fortune no. 10

Upright: good luck, karma, life cycles, destiny, a turning point
Reversed: bad luck, negative external forces, out of control

Justice no. 11

Upright: justice, fairness, truth, cause and effect, law
Reversed: unfairness, dishonesty, lack of accountability

The Hanged Man no. 12

Upright: suspension, restriction, letting go, sacrifice
Reversed: martyrdom, indecision, delay

Death no. 13

Upright: endings, beginnings, change, transformation, transition
Reversed: resistance to change, unable to move on

Temperance no. 14

Upright: balance, moderation, patience, purpose, meaning
Reversed: imbalance, excess, lack of long-term vision

The Devil no. 15

Upright: bondage, materialism, sexuality, addiction
Reversed: detachment, breaking free, power reclaimed

The Tower no. 16

Upright: disaster, upheaval, sudden change, revelation
Reversed: avoidance of disaster, fear of change

The Star no. 17

Upright: hope, spirituality, renewal, inspiration, serenity
Reversed: lack of faith, despair, discouragement

The Moon no. 18

Upright: illusion, fear, anxiety, insecurity, subconscious
Reversed: release of fear, unhappiness, confusion

The Sun no. 19

Upright: fun, warmth, success, positivity, vitality
Reversed: temporary depression, lack of success

Judgment no. 20

Upright: judgment, rebirth, inner calling, absolution
Reversed: self- doubt, refusal of self-examination

The World no. 21

Upright: completion, integration, accomplishment, travel
Reversed: lack of completion, lack of closure
Minor Arcana
Wands
Ace of Wands

Upright: creation, invention, origin, birth, fortune
Reversed: ruin, decadence, perdition, to perish

Two of Wands

Upright: physical suffering, disease, chagrin, mortification, sadness
Reversed: trouble, fear, surprise, emotion, wonder

Three of Wands

Upright: established strength, enterprise, commerce, discovery
Reversed: end of troubles, end of disappointment, cessation of adversity

Four of Wands

Upright: haven of refuge, harmony, prosperity, peace, repose
Reversed: increase, felicity, beauty, embellishment

Five of Wands

Upright: imitation, gain, opulence, the struggle for riches
Reversed: litigation, disputes, trickery, contradiction

Six of Wands

Upright: triumphant victory, great news, crown of hope
Reversed: fear, apprehension, the arrival of a victorious enemy, treachery

Seven of Wands

Upright: valor, discussion, wordy strife, barter, competition
Reversed: anxiety, embarrassments, perplexity

Eight of Wands

Upright: swiftness, great hope, great haste, the arrows of love
Reversed: arrows of jealousy, quarrels, internal dispute

Nine of Wands

Upright: strength in opposition, delay, suspension, adjournment
Reversed: calamity, obstacles, adversity

Ten of Wands

Upright: oppression, disguise, perfidy, any kind of success
Reversed: difficulties, intrigues, contrarieties

Page of Wands

Upright: faithful, a lover, an envoy, a postman, a dangerous rival
Reversed: anecdotes, evil news, indecision, announcements

Knight of Wands

Upright: flight, absence, departure, emigration
Reversed: discord, interruption, division, rupture

Queen of Wands

Upright: friendly, chaste, honorable, love of money, business success
Reversed: obliging, economical, serviceable, deceit, infidelity

King of Wands

Upright: honest, conscientious, countryman, friendly
Reversed: advice that should be followed, good, but severe; austere, yet tolerant
Cups
Ace of Cups

Upright: house of the true heart, joy, content, abundance, fertility
Reversed: house of the false heart, instability, mutation, revolution

Two of Cups

Upright: love, passion, affinity, friendship, sympathy
Reversed: the same meanings

Three of Cups

Upright: perfection, merriment, happy issue, fulfillment, solace
Reversed: consolation, cure, end of the business

Four of Cups

Upright: weariness, disgust, aversion, blended pleasure
Reversed: novelty, new relations, new instruction, presage

Five of Cups

Upright: card of loss, inheritance, patrimony, transmission
Reversed: news, alliances, ancestry, return, false projects

Six of Cups

Upright: card of the past and memories, things that have vanished, pleasant memories
Reversed: the future, renewal, upcoming inheritance

Seven of Cups

Upright: images of reflection, sentiment, imagination, ideas
Reversed: desire, will, project, determination

Eight of Cups

Upright: mildness, timidity, modesty, honor, giving joy
Reversed: happiness, feasting, great joy, perfect satisfaction

Nine of Cups

Upright: contentment, concord, advantage, success, satisfaction
Reversed: loyalty, truth, liberty, good business

Ten of Cups

Upright: repose of the entire heart, perfection of human love, town of querent
Reversed: repose of the false heart, violence, indignation

Page of Cups

Upright: a studious youth, news, application, reflection, meditation
Reversed: taste, attachment, seduction, artifice

Knight of Cups

Upright: arrival, approach of a messenger, incitement, advances, invitation
Reversed: duplicity, fraud, swindling, trickery, irregularity

Queen of Cups

Upright: devoted women, loving intelligence, gift of vision, wisdom
Reversed: perverse women, vice, dishonor, depravity

King of Cups

Upright: man of business, responsible, equity, creative intelligence
Reversed: dishonest, double dealing man, injustice, scandal
Swords
Ace of Swords

Upright: triumph, conquest, card of great force, great prosperity or misery
Reversed: upright meanings are disastrous; augmentation, duplicity, childbirth

Two of Swords

Upright: conformity, courage, tenderness, affection, intimacy
Reversed: disloyalty, imposture, falsehood, duplicity

Three of Swords

Upright: removal, absence, division, rupture, dispersion
Reversed: error, loss, distraction, disorder, confusion

Four of Swords

Upright: retreat, solitude, hermit's repose, exile, tomb
Reversed: economy, avarice, precaution, testament

Five of Swords

Upright: infamy, degradation, destruction, loss, dishonor
Reversed: same meanings; sorrow, mourning, burial

Six of Swords

Upright: journey by water, route, expedient, commissionary
Reversed: confession, publicity, declaration

Seven of Swords

Upright: design, wish, hope, confidence, annoyance
Reversed: counsel, slander, babbling, instruction, good advice

Eight of Swords

Upright: bad news, violent chagrin, conflict, calumny, crisis
Reversed: disquiet, opposition, accident, treachery

Nine of Swords

Upright: failure, miscarriage, death, deception, despair
Reversed: shame, suspicion, doubt, imprisonment

Ten of Swords

Upright: pain, affliction, tears, desolation, sadness
Reversed: profit, success, advantage, power, but all are temporary

Page of Swords

Upright: overseeing, secret service, vigilance, spying, examination
Reversed: sickness, unprepared state, astonishing news

Knight of Swords

Upright: skill, bravery, defense, wrath, war
Reversed: impudence, extravagance, struggle with a rival, impudence

Queen of Swords

Upright: widowhood, female sadness, embarrassment, sterility
Reversed: malice, bigotry, prudery, bale, deceit

King of Swords

Upright: authority, command, judgment, militant intelligence, law
Reversed: barbarity, cruelty, perversity, perfidy
Pentacles
Ace of Pentacles

Upright: perfect contentment, felicity, ecstasy, gold
Reversed: bad intelligence, a share in finding treasure

Two of Pentacles

Upright: card of gaiety, news, written messages, obstacles
Reversed: simulated enjoyment, handwriting, letters of exchange

Three of Pentacles

Upright: trade, skilled labor, nobility, aristocracy, glory
Reversed: mediocrity, pettiness, weakness

Four of Pentacles

Upright: surety of possessions, gift, legacy, inheritance
Reversed: delay, opposition, hindrance, suspense

Five of Pentacles

Upright: material trouble, destitution, concordance, affinities
Reversed: chaos, ruin, discord, disorder

Six of Pentacles

Upright: gifts, gratification, present prosperity
Reversed: desire, envy, cupidity, illusion

Seven of Pentacles

Upright: card of money, barter, altercation, quarrels, ingenuity
Reversed: anxiety regarding money, suspicion, apprehension, impatience

Eight of Pentacles

Upright: work, employment, craftsmanship, commission
Reversed: voided ambition, vanity, exaction, cunning

Nine of Pentacles

Upright: prudence, safety, success, accomplishment, discernment
Reversed: deception, bad faith, voided project, roguery

Ten of Pentacles

Upright: gain, riches, family matters, archives
Reversed: chance, fatality, loss, robbery; gift, dowry

Page of Pentacles

Upright: application, study, scholarship, management, reflection
Reversed: luxury, liberality, dissipation, unfavorable news

Knight of Pentacles

Upright: utility, interest, serviceableness, responsibility
Reversed: idleness, stagnation, discouragement, placidity

Queen of Pentacles

Upright: opulence, magnificence, security, liberty
Reversed: suspicion, suspense, fear, mistrust

King of Pentacles

Upright: valor, realizing intelligence, mathematical gifts, business intellectual aptitude
Reversed: vice, ugliness, perversity, corruption
With the straightforward nature of the deck, it's wide availability, and beautifully illustrated cards, the Rider-Waite deck has stood the test of time and continues to be the most popular Tarot deck.
With over 37 years of experience reading the Rider-Waite Tarot, I can reveal hidden insights into your past, present, and future. If you're ready to have some answers revealed to you, request your free 3-card reading from me, the Tarot Prophet, Sophia Loren today. This 3-card, no strings attached reading is personally tailored to meet your specific needs.